A look at our company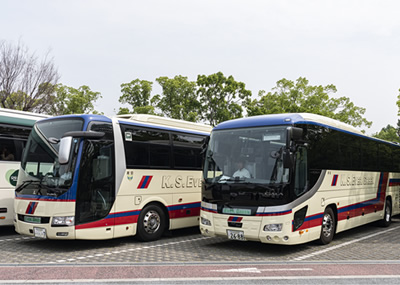 K.S.EVER.GREEN is a travel company primarily catered toward inbound tourists (as a class 3 travel operator), as well as an inbound tourist bus company for the Osaka area.
Travelers from abroad may differ from domestic travelers in languages, customs, and itineraries.
Our company's professional drivers and staff have many years' experience with inbound travelers. In addition to promising you a comfortable journey, we also strive for consistently safe driving, thorough management, and ongoing improvements.
K.S.EVER.GREEN Sightseeing Co., Ltd.
Company president 河﨑洋
Company overview
K.S.EVER.GREEN Sightseeing Co., Ltd. Main business office
Company president
河﨑洋
Capital stock
95 million yen
Business affairs
Class 3 travel operator
General chartered transportation services for travelers (Kinki officially authorized for short-distance travel No.1530)
Established
August 30, 1996
Location
5-3-18 Itachibori, Osaka Taisho-ku, Osaka, 550-0012
Telephone
06-6533-2868
FAX
06-6532-8098
Mail
info@ks-evergreen.co.jp
K.S.EVER.GREEN Sightseeing Co., Ltd. Taisho garage
| | |
| --- | --- |
| Location | 3-8-11 Sangenyahigashi, Osaka Taisho-ku, Osaka, 551-0002 |
| Telephone | 06-6553-3879 |
| FAX | 06-6555-1581 |